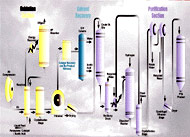 | | |
| --- | --- |
| | Pure Terephthalic Acid |

HOOC.C6H4. COOH,


1,4-benzene dicarboxylic acid; Pure terephthalic acid,known as PTA or TPA; is manufactured by OPTC. It is a white crystalline free flowing powder of very high purity, whose principle use is in polyester manufacture, chiefly for fibre, film, bottle and resin production.




| | |
| --- | --- |
| | Oriental Petrochemical (Taiwan) Co., Ltd. |

PTA production is registered to: - ISO 9002 : 1994 EN ISO 9002 : 1994 BS EN ISO 9002:1994 Certificate No. : 934844 Date of Original Registration : 9th February 1994
Information contained in this publication or as otherwise supplied to Users is believed to be accurate and is given in good faith, but it is for the User to satisfy itself of the suitability of the Product for its own particular purpose. OPTC gives no warranty as to the fitness of the Product for any particular purpose and any implied warranty of condition (statutory or otherwise) is excluded except to the extent that exclusion is prevented by law. OPTC accepts no liability for loss or damage (other than that arising from death or personal injury caused by a defective Product, if proved), resulting from reliance on this information. Freedom under Patent, Copyright and Designs cannot be assumed.
Specification
| | |
| --- | --- |
| Appearance | White free flowing crystalline powder free from visible contamination |
Acid No. (mg KOH/g)
¡@
675¡Ó2
4-carboxybenzaldehyde(ppm w/w)
Max 25
p-toluic acid (ppm w/w)
125 +/- 45
Benzoic acid (ppm w/w)
Max 30.0
Al, Ca, Co, Cr, Fe, K,
None greater than
Mg, Mn, Mo, Na, Ni, Ti
1 and in total
(ppm w/w)
max 4
Water (% w/w)
Max 0.15
Ash (ppm w/w)
Max 6
Colour in 2N KOH solution
(Hazen Units)
Max 10
Millipore
Min 0.90
Appearance compared with standard
Acceptable
b* (color)
0.4 - 1.2
¡@
Handling and Storage
Whilst there are indications that a very few individuals who are prone to allergies may suffer skin sensitization if they handle PTA, terephthalic acid has a very low toxicity.
Federal Hazardous Substances Act tests indicate that PTA is not an eye or skin irritant on rabbits.
When fed as 3% of diet to rats, urinary bladder and kidney calculi were produced in 90 days LD50 - Greater than 15g/kg (Rats).
The use of dust masks is advisable when handling PTA, as when handling any other fine powder. PTA when spilt on floors can present a slipping hazard. Good house keeping is therefore advised.
Finely divided organic products which are combustible are liable to explosion should the dust content of the atmosphere be high if ignition occurs. PTA represents a group A explosive risk (SHW 830). For this reason good house keeping is advisable to minimise the amount of dust when terephthalic acid is handled. The atmosphere of any silo or pneumatic transfer equipment where dust explosions could occur should be blanket with inert gas to below 10% oxygen content.
High voltage static electricity build-up is possible when handling terephthalic acid and therefore effective earthing of equipment is essential, ensuring that the earthing is continuous. The minimum explosive concentration of PTA in air is 40g/M3 (0.04 oz per cubic ft) and the minimum ignition energy 50mJ. The minimum ignition temperature is 500¢J. The maximum rate of pressure rise is 455 bar/sec.
The maximum explosion pressure is 7.9 bar.
Packaging Delivery
Delivery is in 1 tonne bags or in bulk. The bags are fitted with a sealed discharge system so that discharge is dust free and contamination is avoided. A leaflet 'PTA Flexible Intermediate Bulk Containers 1000kg Bags' is available describing the bags and gives details of how to handle them. A further brochure detailing various forms of bulk delivery options entitled "PTA Bulk Delivery Options" is available on request. Advice is also available on the design of powder handling and storage equipment best suited to individual customer requirements.